This is a guest post by Darcia from Light Viking.
Special events are magical…. Surrounded by loved ones, dressed up to the nines, with lovely food and drinks to enjoy.
It's important for your venue to provide a fantastic setting to ensure yours and your guests' comfort – from our experience, Old Forest School – Vintage Venue are most definitely one of those venues. Being set on a historical school site offers so many options not often available at large gatherings – for example, having a pool to swim in, tennis courts, a cricket pitch – good golly – such fun!
For us personally, our favourite aspects of Old Forest School aside from the delightful hosts, are their gorgeous barn, the seriously cool touches of authentic vintage to be found dotted about the venue, and the strands of festoon lights draped romantically across the party areas. The latter of which brings us to our favourite discussion – event lighting.
Event lighting sounds very grand, but unless you are looking for something akin to a big stage production, many whimsical and gorgeous lighting touches can be added to your party without breaking the budget. Here are 3 ways to light up your event…
1. Fairy Lights – there are seemingly a gazillion fairy light options available these days… and many ways that the humble fairy light can transform an area. An extremely simple DIY is a jar with a strand of the battery operated seed lights woven through marbles or glass beads, offering a sparkly little glow for table settings or pathways. They could also be suspended from above, placed on shelves – you are limited only by your imagination with these quick and easy little wonders.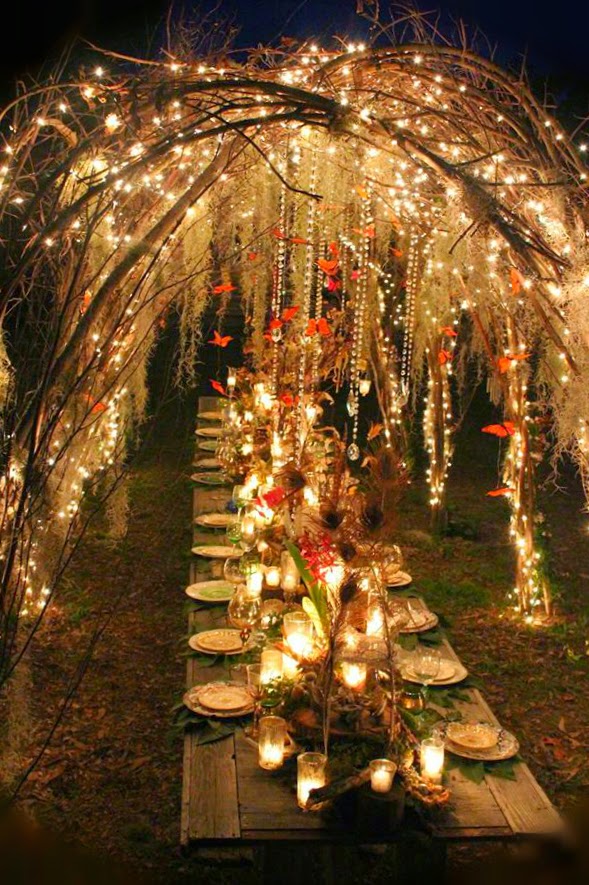 This amazing table setting was created by Tricia Saroya, North America. And whilst it is insanely gorgeous, if you deconstruct the elements, it is completely achievable should you desire – just be sure to practice before the big day…. And allow plenty of time to create!
2. Candles – so versatile, and by putting them into vintage jars (or any jars for that matter) you can keep mess and danger to a minimum. Battery operated candles are available too, and can be quite difficult to tell from a real one.
A very easy DIY, as seen here, is simply candles, jars, a holder (could be a basket, a wire basket, a wooden crate – there are many potential options), some pretty blooms, and a place to display your creations. Sand in the bottom of the jars helps to stabilise the candles, and will also catch any wayward wax if you are using real candles. If you use some scented candles, you will also add another dimension – essential oil candles can set the mood perfectly.
3. Include a budget for a Lighting Stylist to transform your event. A lighting stylist will have a variety of lighting elements on hand, and many will have styling packages available, including hire, setup and deconstructing after the event. Hiring a Lighting Stylist will eliminate the need for you to source, purchase and set up your lighting, and give you quite a bit of bang for your buck, because a lighting stylist is, by very definition, someone who lives and breathes beautiful lighting scenarios. Additionally, they will quite often be incredibly creative, assuring you of a unique and bespoke style for your event. From the beautifully basic, to the out of control gorgeous, the right lighting stylist will be sure to meet your requirements and budget with a serious touch of fancy and bling.
So, if you are a DIY kinda person, or prefer to have your lighting dreams brought to life by a professional, there are endless lighting options available. Be sure to check what your venue offers in terms of "additional lighting" they may also be able to recommend a Lighting Stylist if you choose to go that route – word of mouth is often the very best reference.
Most importantly, when all is said and done, your event is about you and your loved ones enjoying one another's company, and creating memories to be cherished forever more.
About Light Viking: Established in 2013, Light Viking is a Bay of Plenty company who manufacture Vintage Style Marquee Lights, and provide Lighting Styling services. They have a variety of decorative lighting options for hire.