After the panic of Tauranga Wedding Show, I was feeling a little more seasoned for Hitched – The Rotorua Wedding Show.  Peter Duncan, organizer of the show is pretty damn good at making even the most neurotic exhibitor feel like an absolute super star so perhaps that had a little something to do with it.
So the ever faithful Honda was packed to the rafters (I know, it doesn't have rafters but you get the idea).  Somewhere in between a school desk, globe, some pretty cool kites, a trike and a mountain of flowers was my trusty assistant Miss Rose.  Off we headed over the hills to Rotorua.
How delighted was I to find that the super awesome Peter Duncan had upgraded us to a fantastic corner site, YES !!  How delighted was the big guy to find we were opposite a wedding cake stand and down the aisle from the magic macaroon lady, mmmm.  Rose was eyeing up Rotorua photographer Rich John's work going up and figuring out how she could wiggle her way over there to meet him.
On the morning of the show (keep reading this is where it gets very exciting) the Mayor of Rotorua, Kevin Winters, goes around each and every exhibit.  Talks to the stall holders, looks around their stand and judges the prestigious award for The Most Outstanding Exhibit.   Well blow me down with a feather, we won, Old Forest School – Vintage Venue was judged Most Outstanding Exhibit of the 2013 Rotorua Wedding Show.  We were presented with a very fancy trophy and a very big bottle of champagne.  Excited, me, well if jumping up and down doing little claps means I was excited well yes, somewhat.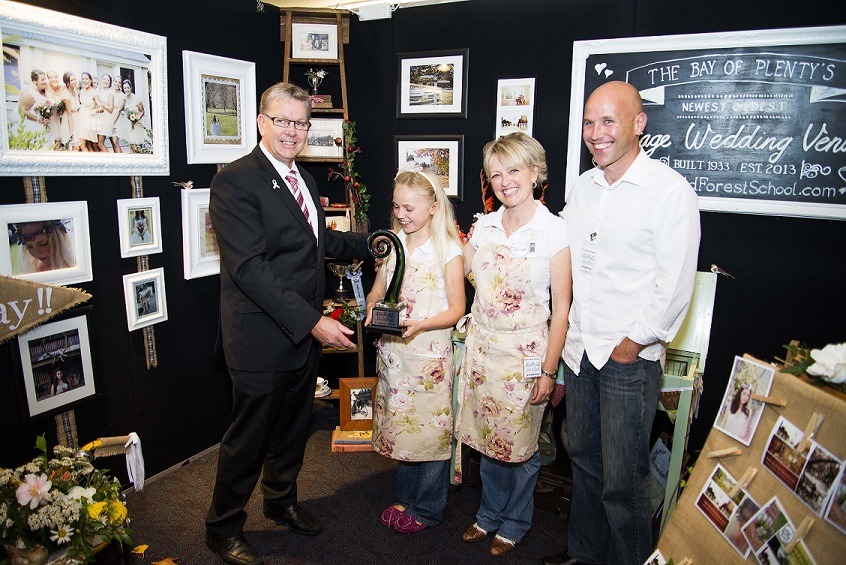 Another amazing day, meeting truly amazing people.
The highlight of the big guys day was helping the lovely lady on the wedding cake stand ease the pressure of taking home all that extra cake, gosh he really is so helpful….